These Speed Up Pad downloads are a variation of facility drill, using single line length sentences. Please see blog article for February 2017 for description. First practice one sentence on your normal pad to become familiar with it. Then using the Speed Up pad, fill in as many of the ten lines as possible against a one-minute timer. Read off from the figures in the margin how many words you have written, to get your wpm figure. This Pad 1 has sentences all of 15 words.
More pads are planned on different vocabularies, revising and beginners material.
Facility drill pads should not be treated as precious, but printed/prepared, filled up and thrown away as quickly as possible. The simplest method is to punch one hole top left of the cut A5 pages, and tie very loosely with a string, yarn etc, leaving a large loop so that pages can be turned. As this is not dictation, the pages do not have to turn "nicely" like your spiral bound pads. You can use up the plain backs with single outline drilling, or the "eye closed" method of writing from spoken matter, where you do not need lines.
Alternatively, you can just print the end page that repeats all the text of the sentences, and use those to make up drill pages on your normal shorthand pad.
| | | |
| --- | --- | --- |
| Pad | Revising / words per line | PDF Size Date |
| | General / 15 | 0.9 MB - 10 Feb 2017 |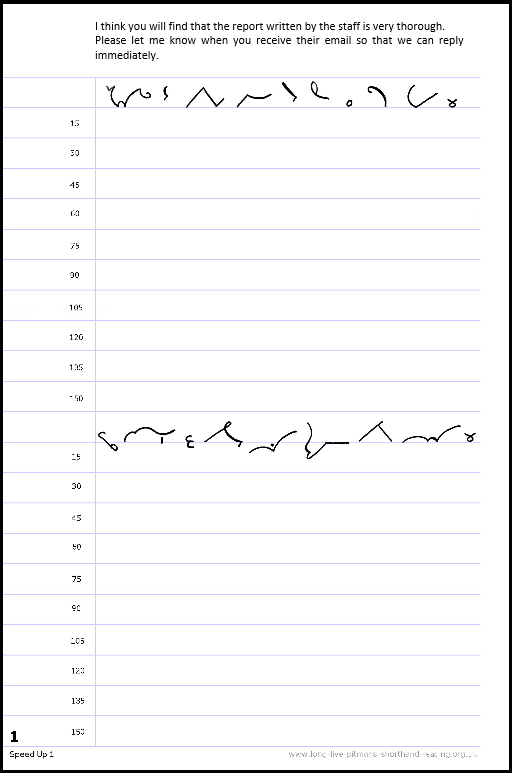 Sample A5 page